Music Technology discussions - from the inside. With regular contributions from musicians, producers, software developers, journalists and other industry people. Sonicstate.com editor Nick Batt is joined by others for the latest news and trends in technology that affects the creation and distribution of music - and a few tasty stories from the studio too. Video is streamed live every Wednesday at 4pm UK time (sonicstate.com/live).
Episodes
Thursday Oct 13, 2022
Thursday Oct 13, 2022
Guests
Video version: https://youtu.be/zVQHUM63Mmc
For Ad free, and loads of other benefits Patreon.com/sonicstate
Post Questions for the panel in next week's show live comments.
Start with QQ. (https://youtu.be/8SpPQiNztcY)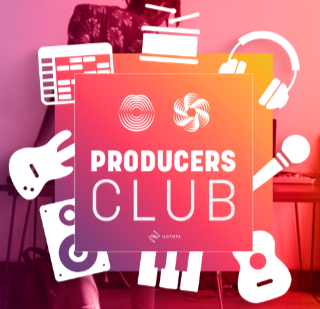 Sign up for iZotope's Music Production Suite Pro for 24.99 a month, or Producers Club for $19.99 a month, and you get access to the most up-to-date versions of our plug-ins as well as the latest features and updates as they are released. No upgrade fees. And, you can tap into iZotope's expert knowledge with exclusive product tutorials and videos on mixing, mastering, and more.
Head over to iZotope.com now to get a 7-day free trial.
Babyaudio.com - save 15% on any purchases of their range of creative effect plugins, designed to add color and depth to your mixes. When checking out, use the code ST15
00:00:16 SHOW START
00:02:15 Sonicstate EMOM Night
00:10:55 1010music Razzmatazz
00:20:21 AD: iZotope Music Producers Club
00:22:22 Bitwigs New Add-on
00:32:06 Cherry Audio Sines
00:41:23 AD: Babyaudio save 15% with the code SRT15
00:44:40 The Godfather
00:48:05 From Nick Howes via [Youtube] QQ For those who attended what was the stand-out product of Synthfest. and as a follow on is it time people stopped building yet another replica of certain instruments (Moog/303/909/808)
00:52:02 fancypants asks fancypants via - [irc] - QQ: How do you choose the right FX for a synth? Do you treat the patch as an instrument like a bass f.e. finding the right effects for synth sounds is still a mystery to me... How do you do it? Any tips?
01:03:35 Wagoo asks Wagoo via - [irc] - (from bo heem) QQ what is defining sonic treatment of the century?
Where to Watch/Listen - We now stream the live show to Youtube Live, Facebook Live as well as at Sonicstate.com/live every Weds at 4pm UK time- please do join in.
Preshow available on Twitch.
You can also download the audio version from RSS FEED